Many of you are business women, career women, mothers, wives, caregivers and we know that we have little time to dilly dally.  So it is no surprise that when we have an end in mind, we often determine the most efficient and effective way to reach the destination.
Like any new project, I always start by working to understand what is in place today and then outline where am I trying to go.  Once I understand these two points, I can identify routes to get from where I am to where I need to go.  In efforts to capture my journey to date and highlight other women's stories, I started with this chart. I'm curious, what other things you take into account that I may have overlooked in this visual to help you get where you are hoping to go.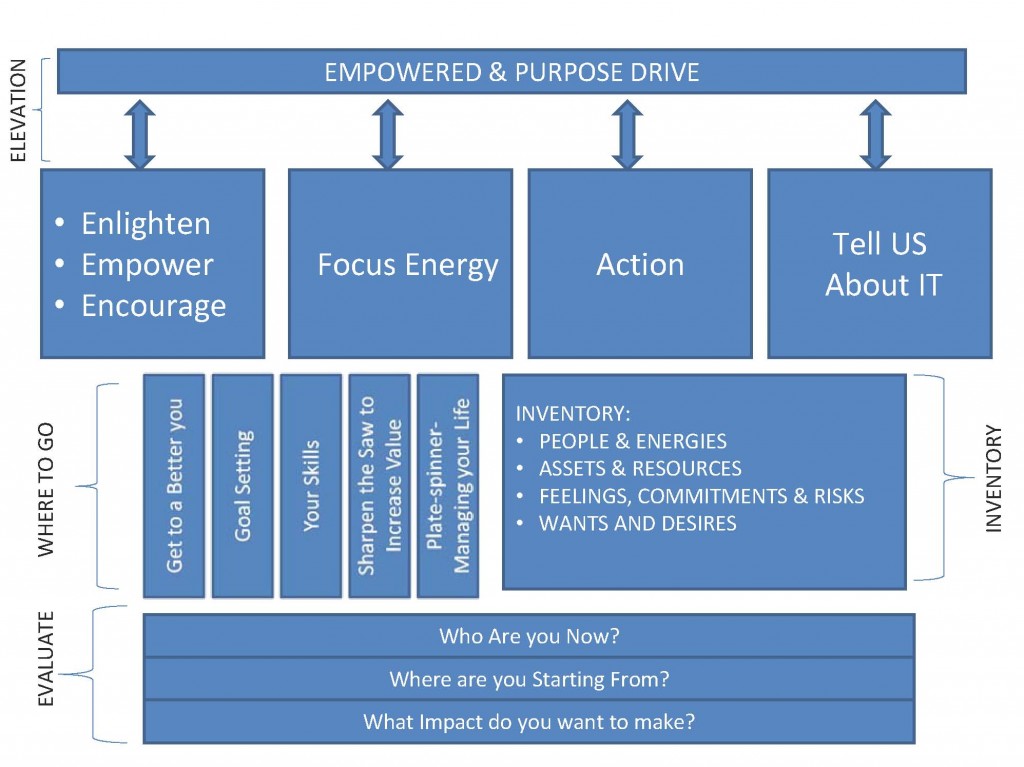 We've talked, in previous posts, about where we are right now. Let's explore these areas: sharpening your saw and risks.
Sharpening Your Saw
What does that mean to you? To me, it means reviewing my strengths and looking for ways to be even better. Often we (or our boss) helps us focus on our weak areas. But what if we focused on our strengths and then looked for ways to make them even stronger? So what can you do to enhance your strengths?
Look to your network for leaders in your industry – invite one or more out for coffee and pick their brain. Ask them what advice they would have to help you excel.
Make a commitment to read up on trends and current events. So much can be learned from what is going on around us.
Follow in the footsteps of other women leaders around the globe. Check out the Forbes Top 100 Business Women. Read about them, study their journey, what makes them successful? What have they done that you could emulate?
Is there a class or webinar or workshop/seminar you could attend that would provide new information or help you better understand something you already know a little bit about?
Is there an organization or networking group you could join (or at least attend once to see what it is about) that might help to sharpen your saw by exposing you to new people with new knowledge?
Risks
Just how far are you willing to go on this journey? Often there are career women who have a vision of a goal but the thought of actually stepping outside the comfort of the "known" of their current life holds them back from taking the first step.
In general, how comfortable are you with risk? Take this risk quiz from Foresters Quarterly to see just how willing you are to take risks.
Are you willing to leave a high paying position in which you feel undervalued, used and undetermined to open your own business or work for a non-profit for which you have great passion? What would need to change in your life to allow you to feel comfortable making that change?
They say that a journey begins with the first step. We can analyze who we are and who we wish we were all day long but it isn't until we take that first step that we begin to make a difference.
So what risks are you willing to take? What do you need to do to present a more inspired you? What will you do TODAY to take that first step?
Continue Reading
JJ DiGeronimo — the president of Tech Savvy Women — is a speaker, author, and thought leader for women in tech and girls and STEM. Through her work, JJ empowers professional women and consults with senior executives on strategies to retain and attract women in technology to increase thought and leadership diversity within organizations.
Don't miss our online resources library for eCourses, online discussions, downloads, retreats and tools for professional women. Learn more here.